EXL Schedules First Quarter 2023 Financial Results Conference Call
NEW YORK, April 04, 2023 (GLOBE NEWSWIRE) -- ExlService Holdings, Inc. ("EXL") (NASDAQ: EXLS), a leading data analytics and digital operations and solutions company, will announce financial results for its first quarter ended March 31, 2023, on Thursday, April 27, 2023, before the market opens. The company will hold a conference call that morning at 10:00 a.m. (ET) to discuss operating and financial results. An investor fact sheet and presentation will be posted on the company's website prior to the conference call. To join the live call, please register here. A dial-in and unique PIN will be provided to join the call. An audio-only webcast of the call may be accessed in the Investors section of the company's website at https://ir.exlservice.com/events-and-presentations. A replay of the webcast will be available for one year.

EXL (NASDAQ: EXLS) is a leading data analytics and digital operations and solutions company that partners with clients to improve business outcomes and unlock growth. By bringing together deep domain expertise with robust data, powerful analytics, cloud, artificial intelligence ("AI") and machine learning ("ML"), we create agile, scalable solutions and execute complex operations for the world's leading corporations in industries including insurance, healthcare, banking and financial services, media, and retail, among others. Focused on driving faster decision-making and transforming operating models, EXL was founded on the core values of innovation, collaboration, excellence, integrity and respect. Headquartered in New York, our team is over 45,400 strong, with more than 50 offices spanning six continents. For more information, visit www.exlservice.com.
Contact:
John Kristoff
Vice President, Head of Investor Relations
+1 212 209 4613
ir@exlservice.com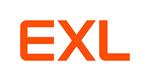 Source: ExlService Holdings, Inc.